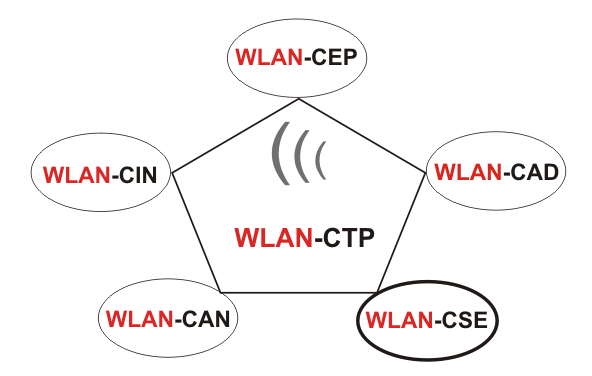 Wireless LAN Certified Security
(WLAN-CSE)
The Wireless LAN certified security (WLAN-CSE) training teaches how you can secure your Wireless LAN against intruders. The material presented in the WLAN-CSE course helps you to successfully implement a Wireless network in an enterprise by training the network engineers with the existing tools and processes which are required to secure a Wireless network. The participants get to know essential and advanced processes and technologies, in order to secure the data and the network in a Wireless enterprise network.
The same explosive way the Wireless LANs spread and are implemented, also the need raises to secure these networks. Daily the headlines of the IT-News report the missing of this security. The security of Wireless solution are not found in one softwareprotocol or in a hardware solution, but can only be derived from Wireless network professionals who implement multiple security measures.
The equipment of numerous well known vendors are placed for practice at the participants disposal.
The Wireless LAN certified security (WLAN-CSE) count on the Wireless LAN know how of the WLAN-CAD certification by training of the candidates in view of security threats and vulnerability of Wireless LANs. The main topic of this training and the exams are hardware, software, protocols, procedures and design techniques which are used to reduce Wireless LAN security risks. The Wireless security certification and training is a main step in order to complete your expert know ledge concerning the Wireless technologies.
Covered topics
of WLAN-CSE
The WLAN-CSE training and certification will cover the following topics
Insecurities and attacks

hardware & software solutions

preventation & counter measures

implementation & management
WLAN-CSE advantages
The advantages of WLAN-CSE training and certification include
solid understanding of security risks and dangers for a Wireless LAN

practical training by implementation of numerous security techniques available on the market

standardised training of the latest security software and protocols of Wireless LANs

being one step ahead of the competitor with regard to the Wireless integration

attainment of a verdor independent certification of Wireless LAN security

you will become the competant contact person in your company

in view of Wireless LAN security measurements and decisions

reproducing of hacker methods and introduction of appropriate countermeasures
www.wlan-ctp.de, www.wlan-ctp.eu, www.wlan-ctp.com, www.airdefense.de, www.cnti.de