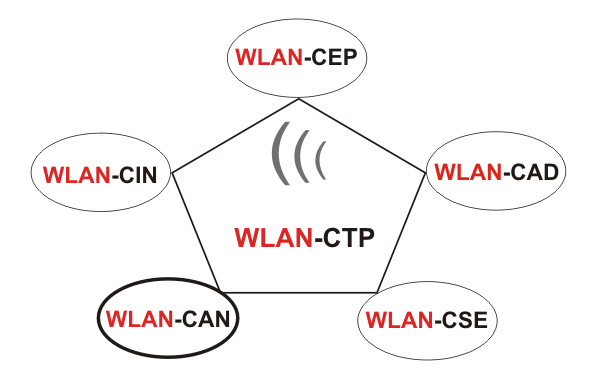 Wireless LAN Certified Analysis
(WLAN-CAN)
/ content
The Wireless LAN analysis course uses the latest Wireless LAN analysis hard- and software, which the market offers. It covers the 802.11 (a/b/g), 802.11e and 802.11n frame sturctures and involved processes as well as Wireless LAN performance- and security analysis. A Wireless LAN troubleshooting will be carried out in detail.
The particiapants receive a thorough education in the 802.11 (a/b/g), 802.11e and 802.11n frame structure, fame exchange processes, which are specified by the 802.11 (a/b/g), 802.11e and 802.11n standard, in order to analyse and troubleshoot any Wireless LAN system. An exhaustive practical training, including installation, configuration and usage of the four market leading analysis products is accomplished.
AirMagnet

Network Instruments

TamoSoft
WildPackets
The participants are conveyed
the understanding for the necessity of anlysis products, current problems, which can be solved with the help of analysis products, and the current features of analysis products. Unique in this training is, that 98 % of all industrial producers of Wireless LAN analysis equipment consider it as supplement.
Target group
The training is aimed at experiences network professional, who want to receive critical and detailed know how in Wireless network analysis. This knowledge encloses a deep understanding of the frame structure of 802.11 (a/b/g), 802.11e and 802.11n (draft) frames, the frame exchange processes between Wireless knots, the analysis of security solutions in regard of effectivity and vulnearbility, the analysis of performance in a pure as well as mixed mode environment and the usage of a analyzer for the site survey and the discovery of intruders. The analysis training is for IT-professionals, who want to discover the reasons for a specific problem or a situation in the most possible detailed kind of way. The detailed analysis of the physical and data link layer is one of the most complex assignments, which are accomplished in the Wireless LAN industry and is reserved only for the best.
Duration
The Wireless LAN analysis training lasts 5 days, which devides into lecture and practical training. The practical part adds up to 80% in which four vendor specific solutions are presented. Therefore, an almost vendor neutral approach is assured.
Certification
The training is the ideal preparation for the WLAN-CAN exam. The WLAN-CAN certification is the first and exclusive certification, which only tests the knowledge of IT-professionals in regard of Wireless LAN analysis and troubleshooting.
Prerequisits
It is recommended that all participants obtain a WLAN-CAD certification before taking part in a WLAN-CAN training. The participants have to get certified for WLAN-CAD before they can take part in the WLAN-CAN exam. It is recommended that all participants are familiar with the hard- and software-solutions which are used in these trainings.
Topics based on 802.11 (a/b/g), 802.11e and 802.11n
DCF mode
PCF mode
MAC Frame Fields und Subfields
MAC layer architecture
MAC Power Management
TS operation (procedure)
Block Ack Operation (

procedure

)
Higher Layer Timer Synchronisation
DLS Operation (

procedure

)
Security
Usage of WLAN protocol analysers
Performance Analyse

Sicherheits Analyse

security analysis

Distributed Analyse

Protokoll Dekoder Analyse

Ausleuchtung (Site Surveying)

Applikations Analyse


Application of the standard terminology of 802.11 (a/b/g), 802.11e and 802.11n series

Labs:

WildPackets
OmniPeek / AiroPeek -

Introduction

OmniPeek / AiroPeek -

Advanced

OmniPeek / Tools

OmniPeek / AiroPeek - Performance and Security Analysis

OmniPeek / AiroPeek - Distributed Analysis
Network Instruments
AirMagnet
AirMagnet -

Introduction

AirMagnet - Advanced

AirMagnet - Integrated Network Tools

AirMagnet - Performance und Security Analysis

AirMagnet - Spektrumanalyzer

AirMagnet - Enterprise System
TamoSoft
CommView für WiFi - Introduction

CommView für WiFi - Advanced

CommView - Tools

CommView for WiFi - Performance and Security Analysis
www.wlan-ctp.de, www.wlan-ctp.eu, www.wlan-ctp.com, www.airdefense.de, www.cnti.de